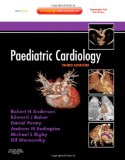 Book Description
A complete guide to pediatric cardiology
Product Description
As patients live longer and need to be treated over the long term and the management of pediatric cardiology problems and congenital heart disease moves more into the mainstream, turn to Pediatric Cardiology for current clinical guidance. Trust Dr. Robert Anderson, godfather of cardiac morphology, to bring you coverage of potential cardiovascular anomalies, all potential diseases related to anomalies or developmental problems, and methods for management and treatment. New contributors from all over the world-including 70% new to this edition-present the latest challenges in the field and emphasize the adolescent and post-operative outcomes for management. Now, in full color and with a fully searchable companion website, this leading reference offers you everything you need to treat and manage pediatric heart conditions.
A comprehensive and exhaustive reference of fundamental and clinical aspects of heart disease in infancy and childhood.

The contributors are well-known experts in the field and the editors are a world class group who have published extensively in the field.
Emphasizes the treatment of corrected congenital heart disease for coverage of the clinical management of cardiac problems in the adolescent and young adult.

Integrates development in chapters on lesions to make physiology clinically relevant for the specific cardiac lesions.

Provides the latest clinical perspectives on neonate cardiac development management issues so you can offer the best long-term care.

Presents the contributions of 70% new authors, from all over the world, in a consistent format to make referencing global perspectives quick and easy.

Captures the nuances of the anatomical structure of lesions through full-color illustrations depicting morphologic, congenital, and surgically corrected examples for exceptional visual guidance.

Includes access to a companion website where you can quickly search the complete contents of the book

Ý kiến bạn đọc
(0)

Viết Ý kiến bạn đọc